Fantasy Sports Trophies and Awards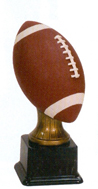 Fantasy sports leagues are everywhere and getting more popular each year!
Are you a fantasy football commissioner? Whether you are the leader of your league or a fantasy sports enthusiast, our fantasy sports trophies, plaques and awards are sure to be a hit with any Fantasy Sports league.
A Fantasy Sports Trophy or Fantasy Sports Plaque adds a whole new dimension to your Fantasy League.  We have a trophy or plaque for all the big-time fantasy sports: Fantasy Football Trophies, Fantasy Baseball Trophies, Fantasy Hockey Trophies, Fantasy Basketball Trophies, or Fantasy NASCAR Trophies and more. We offer a comprehensive selection of fantasy sports awards for most fantasy sports leagues.
Recognize the champion each year! Make every trophy special with engraving.  Contact us at 301-776-7773 for more information!